Ships & Offshore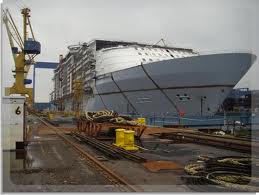 Shipbuilding is a very competitive business, with absolute and strictly controlled conditions of quality and safety.
Today, some of the most efficient and safety conscious shipyards in the world uses
SpreFix ® solution for effective fire protection and other insulation purposes.

Besides fire protection, we are working with condensation control, sound insulation and thermal insulation onboard on all types of ships and offshore platforms.
Condensation is a recognized problem in the marine sector and SpreFix ® spray insulation eliminates this problem.

SpreFix ® spray insulation is not affected by stormy weather or vibrations generated by the ship's engines or propellers.


Several European countries apply SpreFix ® solution successfully in many commercial and marine vessels.
Another particularly challenging area where SpreFix ® offers unique advantages, are in oil platforms and other offshore installations.

In South Korea, our partners, performs SpreFix ® insulation to the major shipyards in the region. The success of SpreFix ® in the Korean market has resulted in a large number of major contracts with leading ship owners and operators.
For example, over the past four years, about 280 ships per year, has been insulated with the SpreFix ® method.

Backa Industriservice and our South Korean partners, works closely in material production and certification within the marine sector.

SpreFix ® S, has with margin, proven to withstand the toughest acceptance tests for fire resistance in the marine sector.
Therefore SpreFix ® S reached the highest level of product certification for marine applications, level D of the following major and vital organs.
The material has been thoroughly tested and is approved for the marine market by DNV, Lloyd's Register, Germanischer Lloyd and Bureau Veritas.